Document Attestation for UAE in Mumbai, Chennai, Pune, and Mumbai
The United Arab Emirates (UAE) is one of the most favoured job destinations for Indians. UAE offers immense opportunities to Indians maybe in any sector like Oil & Gas, Software Development, Tourism and Hospitality, Healthcare, International Trade, Marine and many others. Whenever an Indian National gets a job in UAE the first and foremost thing required to apply for his employment visa is his attested documents from UAE Embassy in India. Since the educational and personal documents are originated in India UAE Employer demands that those be attested by UAE Consulate or Embassy in India.So now lot of questions arise when the attestation is to be done.
Some of them are mentioned as below with their probable answers:
Which Educational certificates are to be attested?
Answer: Most importantly Graduation Certificate needs to be attested. Besides that if you also have a PG and if your higher degree is considered important for the job that you are selected for then you can consult your employer whether that too needs to be attested.

 

Whether I should also attest my other degrees or mark sheets / provisional certificates?
Answer: Only one most important Degree certificate needs to be attested. (you can decide which one – in case you possess two degrees). Marksheets need not be attested. If you are a Diploma / ITI holder then the respective degree may be considered for attestation.

 

Whether I should also attest my Marriage Certificate / Birth certificates for my kids/ My spouse's degree certificate?
Answer: This depends on whether you have immediate plans for your family to join you in UAE. If that is so or even if they will be joining you in one year's time, it is always better to get their documents attested along with yours because this will save your time and trouble later. Assuming you are working in UAE and attestation of other documents has to be done after one year, it will be difficult for you to manage this remotely.

 

Whether I should also go for MOFA attestation?
Answer: MOFA is an attestation which is done from UAE and not from India. Mostly it is done by your Employer in UAE as it's a matter of one day and very negligible cost over there. But if your Employer insists that MOFA is to be done by you then it takes the additional cost of sending your document to UAE and getting it back after attestation which besides time will be an additional cost too. So the suggestion is that as far as possible don't ask about it if it's not mentioned by the Employer and if your Employer suggests then request them to get it done from UAE after you send your Embassy-attested document to them.
 
 Whether HRD is compulsory before UAE attestation? 
Answer: You need to check whether your document is already attested by any other Embassy or by MEA prior to UAE attestation. As per UAE Embassy guidelines before UAE Embassy stamps the documents it has to be verified by the University, attested by Notary, Home Department / HRD, MEA and then presented to the Embassy for attestation. The prerequisites for each document may be a little different and therefore it's better that you send the front and back document scan copy to a professional person who is dealing in attestations and he/she will inform you correctly what needs to be done.

 

How many days it takes for UAE attestation and what are reasonable fees for the same? 
The process and eventually the cost depends on the current status of a document and further processes to be done. However, the timeline may vary from 5 – 10 working days and costs may vary between 5500 to 7000 INR. Please note that Embassy fees are subject to change without any notice and the cost may change depending on Embassy fees during the time of submission of documents.

 

What is the validity of the UAE Embassy Attestation? Once attested by UAE Embassy is the attestation valid for life?




Yes, once the document is attested by the UAE Embassy it is valid for a lifetime, i.e. you need not attest the document from UAE Embassy again. This statement has some riders: If you lose your original document then the duplicate document has to be attested again from the Embassy. The original document once lost loses all attestations done on it and having a photocopy of the lost document will not serve the purpose. Also f the document gets badly damaged beyond recognition you may be asked to reissue the same and get it attested again by the Embassy.

 

After Attestation of Degree Certificate, is a scan copy of the same sufficient for issuing the UAE Visa?
Yes, the Degree certificate scan copy is sufficient for the Employer to issue your visa. However when you enter UAE on an Employment visa and when the visa is endorsed on your passport your original Degree Certificate (attested) is checked and verified again. Therefore it is necessary to carry the attested document physically to UAE when you are going on an Employment visa.

If I am going to UAE on a Visit visa can I submit my document to the agency and is it possible that them to send me an attested copy to my UAE Address after attestation? 
Yes, it is possible to do that however there is always a risk that if your document gets rejected in the attestation process from Embassy due to your university being blacklisted then the attestation will not be completed. However, for bonafide documents from approved universities, it is always possible that the document can be sent post attestation to your UAE address. Our experienced consultants will be in a better position to help you in such situations.
Stepwise Process of Document Attestation for UAE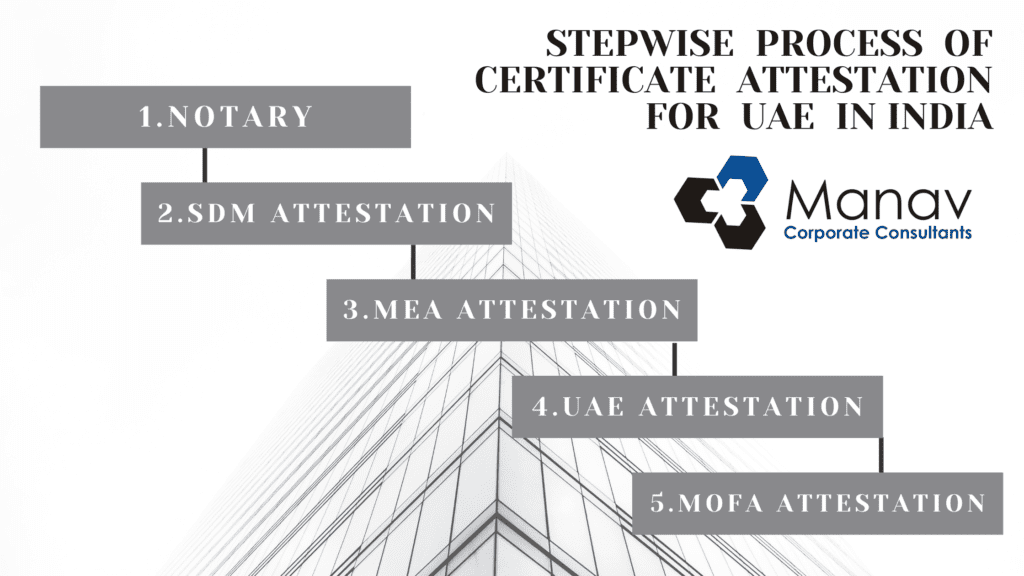 Step 1: Notary Attestation:
It is the first step of attestation. It is carried out at the local level by authorized government officials. Personal documents, educational documents and commercial documents must be notarized in order to be verified abroad.

Step 2: Sub-Divisional Magistrate (SDM) Attestation:
After notarization, certain documents require attestation by the Sub-Divisional Magistrate (SDM). This step is applicable to documents issued by authorities such as universities, educational institutions, and certain state government departments. The SDM attestation is done to validate the document's authenticity at the sub-divisional level. 

Step 3: MEA Attestation:
Thirdly and importantly the documents are then legalised by the Ministry of External Affairs based on the signatures and stamp of the designated signing authorities of the State Government. The MEA professionals proceed with this part of the attestation. When the papers are complete as a mark of verification, the MEA provides a stamp. 

Step 4: UAE Embassy Attestation:
Moreover, the attestation from the MEA is later re-checked by the authorization of the respective embassy. This ensures the reliability of the documents. If you are looking for the certification for UAE Visa, the  UAE Embassy will attest your documents. 

Step 5: MOFA Attestation (Optional):
Certainly, the MOFA (Ministry of Foreign Affairs)  is the department that handles the foreign affairs of the UAE. You must do a MOFA attestation before applying for Visa because MOFA attestation is compulsory.
How to Attest your Documents for UAE in India?
This is all about certificate attestation for UAE in Mumbai, Chennai, Delhi and Pune.  For more details and any attestation service call our executives.To know more about our services, call us the below number or kindly visit Home-Manav Corporate Consultants.  

Also, check What is apostille attestation? if you're planning to visit European countries. And how to apply for Apostille Attestation