Apostille Certificate Attestation
What is Apostille? 
A total of 117 countries including India, Australia, the US, the UK, and most of the EU countries have signed a convention which states that any document originating from any of these countries can be attested by the Ministry of External Affairs of that country and will be accepted as a legalised document in any of the 117 countries which have signed the convention agreement. Recently even Saudi Arabia has joined the list of Apostille countries this year. 
Due to this, the process of attestation is simplified. The apostille ensures that documents issued in one signatory country will be considered valid in another.
For all documents that have originated in India, Apostille attestation in Mumbai is done by MEA (Ministry of External Affairs) New Delhi.
What is the process of Apostille attestation?
Answer: Please find the process below
Stepwise Procedure for Apostille Certificate Attestation
Step 1: Notary Attestation –
It is the first step of attestation. It is carried out at the local level by authorized government officials.
Step 2: Home Department Attestation/ SDM Attestation (Either one) –
Home Department Attestation: Verification for documents is performed by the State Home Department. 
Or
SDM Attestation: The Sub-Divisional Magistrate is an alternative for the Home Department. Sub-Divisional Magistrate is autonomous of the main state government and performs individually.
Step 3: MEA Apostille – 
In this step, the MEA provides a sticker containing the applicant's name and other details. At times, along with the apostille sticker, an MEA stamp is also obligated on the documents, especially for commercial documents. It is the final step of Apostille certificate attestation and is performed by the central government.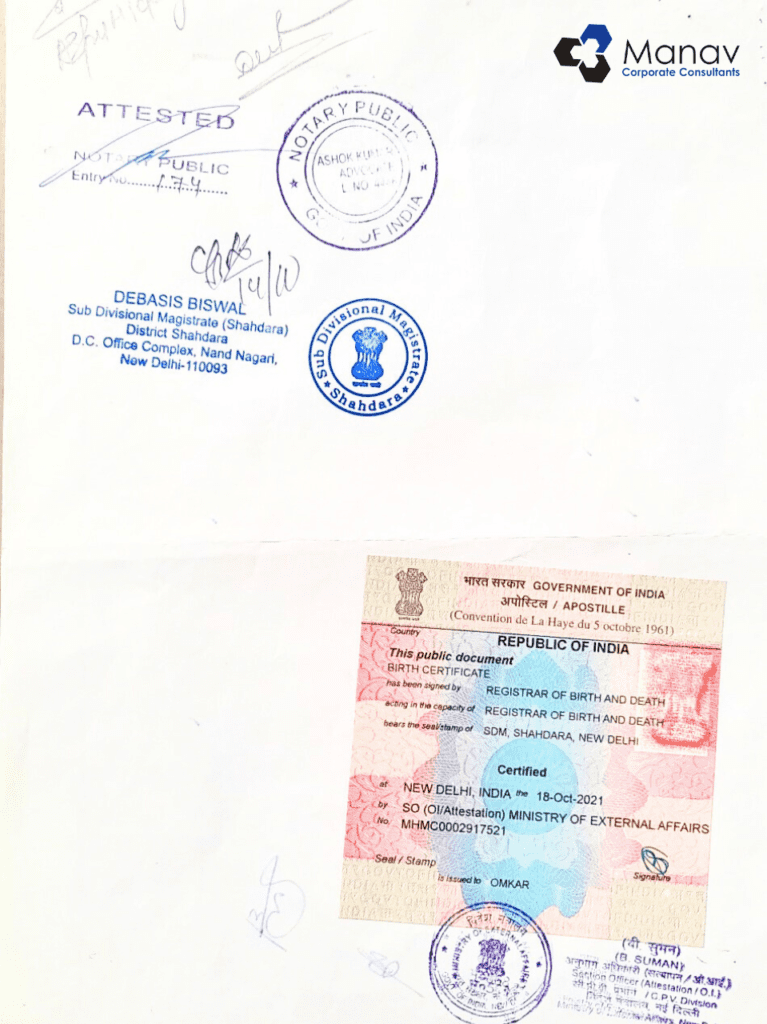 How much time does it take for Apostille and what is approximate cost?
Answer: Time frame can be anywhere between 4-8 working days and costs will depend on current status of document and what process needs to be followed. However you can be advised about it if you can send the scan copy of your document (Front and back) to our consultant or upload on our website and ask for a quote.
How to Attest your Documents for Apostille in India?
Manav Attestation Services is a top apostille service provider in India for more than 10 years. To get a hassle-free service in terms of Apostille attestation in India, reach out to us over the below contact for all the extended support required for document attestation.
Find Other Attestation here
NOC Affidavit Attestation
Certificate of Origin Attestation
NOC Affidavit Attestation
Invoice Attestation
Power of Attorney Attestation
Free Sale Certificate Attestation
Registration Certificate Attestation
Transfer Certificate Attestation
Memorandum of Association Attestation
Board of Resolution attestation
Articles of Association Attestation
Medical Certificate Attestation
Certificate of Incorporation Attestation
Agreement Attestation