Certificate Attestation for UAE Embassy in Pune, Mumbai, Chennai & Delhi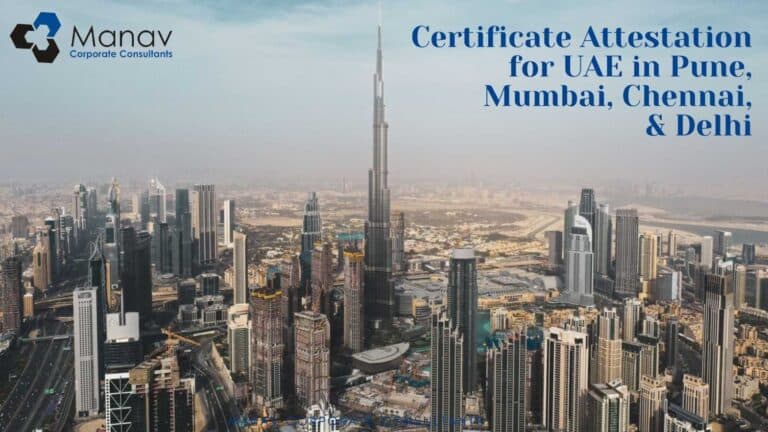 The United Arab Emirates (UAE) is one of the most important country for Indians. From the last few years, Certificate Attestation for UAE in Pune, Mumbai, Chennai & Delhi has become one of the most in-demand services as the number of people going to UAE for employment has grown vigorously. All the documents issued from the INDIA, such as personal documents (birth certificate, marriage certificate, divorce certificate, death certificate), educational certificate, commercial or business documents have to be attested before going into UAE. We have done thousands of documents attestation over the last decade. Many people know that attesting documents is a complicated process and they search for a stress-free way to get it done. If you are one of them, your search ends here. We at Manav Consultants make sure that your certificates attestation is done without any stress and hassle. And also provide an express service.
We have gained tremendous experience over the decade by serving our clients who are especially having documents authentication requirements for UAE and other gulf countries like Oman, Saudi Arabia (KSA), Kuwait & Qatar. Below are the procedures to get your documents attested, which may make you feel too complicated but you do not need to worry, Just talk to our attestation advisor/executive. We will do all the work and get your document attested and delivered to you on time!
So before starting the detailed procedure of UAE attestation let us see what attestation is.
Attestation is undertaken to prove the genuineness of the documents and it is asked when an individual seeks a work or study visa overseas. 
Attestation meaning can be interpreted as a demonstration or proof of something. It is more of a legal term that deals with the lawfulness of evidence, a statement, a document or a certificate.
So major reason for document attestation is to show the in-charge authorities that the documents and their possessor are trustworthy. This gives both the government and the individual a sense of security. 
Stepwise Process of Certificate Attestation for UAE Embassy in Pune, Mumbai, Chennai & Delhi -
Notary Attestation– It is the first step of attestation. It is carried out at the local level by the authorized government officials. Personal documents, educational documents and commercial documents must be notarized in order to be verified abroad. 
2. HRD Attestation –  Second step of attestation is  HRD  attestation which is the process of verification of the educational documents. Certainly HRD authentication center is present in each state. And if the educational document needs to get attested from the ministry of external affairs, then it should be first validated by the respective state HRD Department where university/ board/ council is situated and from where the same certificates have been appointed.
MEA Attestation–  Thirdly and importantly the documents are then legalised by the Ministry of External Affairs based on the signatures and stamp of the designated signing authorities of the State Government. The  MEA  

professionals proceed with this part of the attestation. When the papers are complete as a mark of verification, the MEA provides a stamp.
4. UAE Embassy Attestation– Moreover the attestation from the MEA is later re-checked by the authorization of the respective embassy. This ensures the reliability of the documents. If you are looking for the certification for UAE Visa, the  UAE Embassy will attest your documents. 
MOFA Attestation– Certainly,  MOFA (Ministry of Foreign Affairs)  is the department that handles the foreign affairs for UAE. You must do MOFA attestation before applying for Visa because MOFA attestation is compulsory.
Also, you can watch this video to know detailed procedure for UAE Attestation.
Services Provided for UAE Certificate Attestation in Pune, Mumbai, Chennai & Delhi
Certificate of Origin Attestation
NOC Affidavit Attestation
Invoice Attestation
Power of Attorney Attestation
Free Sale Certificate Attestation
Registration Certificate
Transfer Certificate Attestation
Memorandum of Association Attestation
Board of Resolution attestation
Articles of Association Attestation
Medical Certificate Attestation
Certificate of Incorporation Attestation
Agreement Attestation
This is all about certificate attestation for UAE in Pune, Mumbai, Chennai & Delhi. For more details and any attestation service call our executives.
To know more about our services, kindly visit Home-Manav Corporate Consultants
We also provide Visa Services for UAE & other countries.