Certificate Attestation for Kuwait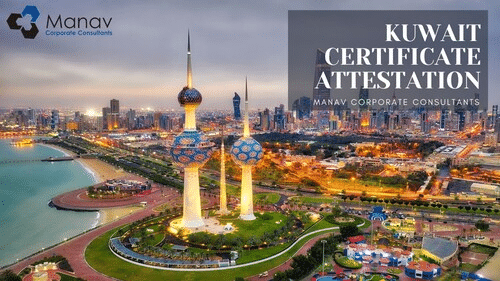 Kuwait is country in Western Asia. Situated in the northern edge of Eastern Arabia at the tip of the Persian Gulf, It shares borders with Iraq and Saudi Arabia. Arabic is the official language of Kuwait but English is widely spoken. It is used in business and is a mandatory second language in schools.
Official name of Kuwait is the "State of Kuwait". Kuwait city is the capital and the largest city of Kuwait. It is located on Kuwait Bay, a natural deep – water harbour. The country is basically low lying with the highest point being 306m (1,004ft) above sea level.
Kuwait supplies 2.6 million barrels of Oil each day to the world making relatively a core country in the petroleum country industry, there for jobs in Oil and Gas industry are quickly and easily procured.
Indians in Kuwait mostly hailing from southern states of Kerala and Tamil Nadu are expatriates in Kuwait.
The India community comprises of professionals like Engineers, Doctors, Lawyers, Technicians, Staff Nurses, Semi-skilled workers etc.
Attestation is undertaken to prove the genuineness of the documents and it is asked when an individual seeks a work or study visa overseas. Attestation meaning can be interpreted as a demonstration or proof of something. It is more of a legal term that deals with the lawfulness of evidence, a statement, a document or a certificate. So major reason for document attestation is to show the in-charge authorities that the documents and their possessor are trustworthy. This gives both the government and the individual a sense of security.
Process of Certificate Attestarion for Kuwait Embassy
Notary Attestation– It's the first step of attestation. It is carried out at the local level by authorized government officials. Personal documents, educational documents and commercial documents must be notarized in order to be verified abroad. 
HRD Attestation – The second step of attestation is  HRD  attestation which is the process of verification of the educational documents. Certainly HRD authentication centre is present in each state. And if the educational document needs to get attested from the ministry of external affairs, then it should be first validated by the respective state HRD Department where the university/ board/ council is situated and from where the same certificates have been appointed.
MEA Attestation–  Thirdly and importantly the documents are then legalised by the Ministry of External Affairs based on the signatures and stamps of the designated signing authorities of the State Government. The  MEA  professionals proceed with this part of the attestation. When the papers are complete as a mark of verification, the MEA provides a stamp.
 Kuwait Embassy Attestation– Moreover the attestation from the MEA is later re-checked by the authorization of the respective embassy. This ensures the reliability of the documents. If you are looking for the certification for UAE Visa, the  Kuwait Embassy will attest your documents. 
Processing Time for Certificate Attestation for Kuwait
As post-covid, the embassy has started attesting the documents within the time frame of 15-20 working days
And, check out below the document attestation done by the Kuwait Embassy For the in-details for Kuwait Attestation please read our Procedure for Certificate Attestation for Kuwait