Certificate Attestation is the process to certify the Genuineness of the certificates from its concerned department for the purpose of employment or higher education in abroad. Certificate Attestation is commonly known as the process of authenticating a document to the required level so that another country will be happy to accept that it is genuine.
Certificate Attestation and Legalization process depends on the certificate to be attested, country and issued authority/state. Some certificates have to be verified by the respective university/Institute/Department/ Board/Council before going for HRD Attestation. Now HRD attestation is done at state level and state Home Ministry. HRD Attested Certificates need Ministry of External Affairs (MEA) Attestation before going to final Embassy/Consulate Attestation.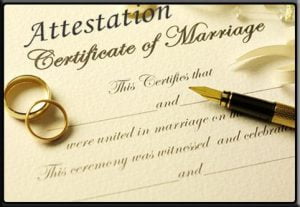 List of Certificate :-
Educational Certificates:- It is authenticated from concern State HRD (Human Resource Development) and GAD (General Administration Department). These are the certificates obtained from school and college like SSLC/10th/CBSE, PDC/+2/HSC, Degree certificates like BA, Bsc, Bcom, BTech, BE, BBA, BSc, CA, BEd, MBBS. Post graduate certificates like MA, Msc, Mcom, MBA, MCA, M Tech, B Pharm, M Pharm, Nursing, MSc Nursing etc. and other Diploma, Nursing and ITI certificates.
Non-Educational Certificates :- It will not be authenticated from HRD (Human Resource Development) and GAD (General Administration Department). But some of the Embassy or Consulate attestations can be done for the following certificates.
Private certificate
Experience certificate
Bona-fide certificate
Birth certificate
Transfer certificate
Affidavit
Marriage certificate
Registration certificate
Power of Attorney
Death certificate
Migration certificate
Translation certificate
Divorce certificate
Transcript certificate
Legalization certificate
Internship/Leaving certificate
Supporting Certificates:-
These certificate has to be submitted along with the above mentioned certificate for attestation. Exact number and type of supporting certificates may vary from country to country. Some of the supporting certificate for attestation are mark lists, transcripts, registration, selection letter, passport copy, photo etc.